Persephone's Children: A Life in Fragments
Description
After years of secrecy and silence, Rowan McCandless leaves an abusive relationship and rediscovers her voice and identity through writing.
She was never to lie to him. She was never to leave him; and she was never supposed to tell.
Persephone's Children chronicles Rowan McCandless's odyssey as a Black, biracial woman escaping the stranglehold of a long-term abusive relationship. Through a series of thematically linked and structurally inventive essays, McCandless explores the fraught and fragmented relationship between memory and trauma. Multiple mythologies emerge to bind legacy and loss, motherhood and daughterhood, racism and intergenerational trauma, mental illness and resiliency.
It is only in the aftermath that she can begin to see the patterns in her history, hear the echoes of oppression passed down from unknown, unnamed ancestors, and discover her worth and right to exist in the world.
A RARE MACHINES BOOK
McNally Robinson Booksellers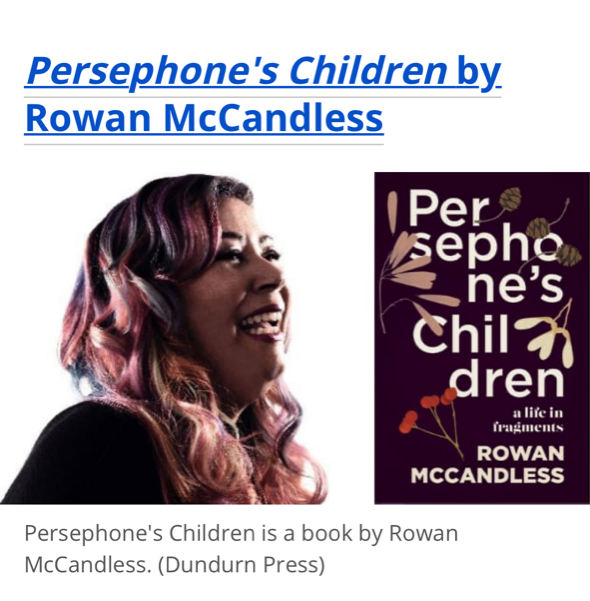 Persephone's Children is on CBC's list of new nonfiction 56 works of Canadian nonfiction coming out in fall 2021. 
https://www.cbc.ca/books/persephone-s-children-1.6121438
18 Canadian books for the memoir lover on your holiday shopping list
https://www.cbc.ca/books/18-canadian-books-for-the-memoir-lover-on-your-holiday-shopping-list-1.6260783
2022 Manitoba Book Awards (2 nominations)
EILEEN McTAVISH SYKES AWARD FOR FIRST BOOK
ALEXANDER KENNEDY ISBISTER AWARD FOR NON-FICTION
Excerpt
Today
T

oday, you will pull back the blankets and crawl out of bed. Today, you will pull back the blankets and crawl out of bed to let the dog out to relieve himself. Today, you will pull back the blankets and crawl out of bed to let the dog out to relieve himself before giving him breakfast. Today, you will pull back the blankets and crawl out of bed to let the dog out to relieve himself before giving him breakfast and you will go to the bathroom: to floss and brush and generally wash up, and dry your hands with a handful of tissues. Today, you will pull back the blankets and crawl out of bed to let the dog out to relieve himself before giving him breakfast and you will go to the bathroom: to floss and brush and generally wash up, and dry your hands with a handful of tissues because the laundry hasn't been done for who knows how many days, which is another task that you should must add to your ever-growing to-do list, that must be recorded once you return to the kitchen with an island and an open view, and stacks of dirty dishes piled high next to the sink.Today you triple pinky-promise to pull back the blankets and crawl out of bed to let the dog out to relieve himself before giving him breakfast before going to the bathroom to floss and brush and generally wash up, before drying your hands with a handful of tissues because clean laundry is lacking because it hasn't been done for who knows how many days, which is another task that you should must add to your ever-growing to-do list, once you return to the kitchen with an island and an open view, and stacks of dirty dishes piled high next to the sink, and have a chai latte and a bowl of muesli kissed with soy milk, which is followed by morning meds because you've been told that consistency and routine are both really important, which then reminds you that today is shower day which always feels like a monumental task, so it's suck it up, buttercup as you return to the tiny washroom and turn on the shower allowing the water to warm while you remove your clothing, before climbing into the tub and huddling under the shower head to shampoo and condition greasy locks and to lather up your body with a bar of lavender soap — rinse and repeat, repeat and rinse, repeat before turning off the tap to exit the shower to towel off and to put on your cotton bathrobe with the hole in one pocket before heading to your bedroom where you will try to find within the land mine of dirty clothing something suitable to wear because you have yet to contend with the laundry which presents quite the quandary, cleanliness is important, is next to godliness, is part of doing the basics of ADL: the Activities of Daily Living you use to rebuild a life that has been broken into fugitive pieces that you lug around each day like chunks of fractured concrete because there's no way to hold back the intrusive thoughts, intrusive thoughts which flash like a strobe lamp light that you try to ignore but can't seem to deflect as you dress because it's like playing a losing game of whack-a-mole, so today you try to distract by sitting down lying down sitting down with your laptop at a desk that you rarely use to try and right write five four three two hundred words for the day which is pretty bad good consider- ing that some hours, days, weeks are more difficult than the rest, you mediate medicate meditate medicate to centre yourself even though all you want to do is lie down in bed to take a nap that lasts forever because every day is as frustrating exhausting as the one just past, which really doesn't matter because now the dog wants needs to go four for a walk which means changing out of your schleps into something more lamentable presentable, not that you really care because the fact is you haven't cared for so very long you can hardly barely rarely remember the last time when you cared, which might prove that M was right when he would tell you that he had a better memory than you did, thoughts a tape which constantly consistently plays on rewind and repeat, rewind and repeat inside your head — that or another one of his Greatest Hits that serenade and loop-de-loop inside your brain, (with a beat) beating you senseless, but the dog stares and doesn't care, okay, well maybe he cares profoundly a little but certainly not as much as he's invested in going for his walk which he reminds you of by barking at every goddamn person he spies through the window and so you place the dog on his leash, put on your Docs and your spring jacket, and then you take him for a walk to and through the neighbourhood park that's a few blocks away from your place while trying not to be annoyed as the dog pulls on the leash, eager to sniff every interesting odour that might come his way as you walk through a tree-lined park before it's time to head back in and take off your shoes and unleash the dog, who runs right in and parks his ninety-five-pound frame upon the couch, and while he barks, you make a lunch because regimens are of great importance and your stomach is growling, so you slap together a sandwich which you eat off the TV tray because you find it un- comfortable to eat meals at the dining room table after all those horrible Sundays spent being lectured by M at your white Ikea dining room table, which now acts as your writing desk where, sometimes, you will sit and write but write right now it is time for lunch while the dog sits on the carpet in front of you and gives the look of Please, oh pretty please, can I have just one taste?, which you know you shouldn't, but still do anyways because he's been your constant companion since getting out of your relationship with M, and once you've both had your fill you will try to read a book which will be hit or miss depending on the day, depending on the workings of your brain, a nervous system overload that makes consecration concentration hell, and so you stack the dirty dishes inside the dishwasher, press pots and pans, press normal cycle and listen, as another cycle begins, and you go back to that blank page to try cry and finish those five, four, three, two, one hundred words from a few hours ago before you lie down in frustration exhaustion on the sofa bed to answer emails and the call of procrastination before you have to fight a losing battle with heavy eyelids which means that when you awake it's too late to make a meal for yourself, and so you go ahead and place a delivery order of fried rice with tofu and broccoli in a black-bean sauce because you haven't really cook cooked or bake half-baked since you went and left M, and the slog that feels like forever because there's still no divorce or remorse recourse for the harm he has wrought as you turn over in bed thinking, tomorrow, tomorrow, you will get out of bed.

Reviews
In Persephone's Children, Rowan McCandless redefines what's possible with creative nonfiction. She shows us how many ways one person's story can be told and re-told, how many entry points there can be, and therefore, how many ways we can reflect on what makes each of us who we are. Her use of form is sometimes surprising, often ingenious, and always wondrous. This is a book that you will revisit again and again, always finding new moments of insight as you track the kaleidoscopic shifting McCandless effortlessly dazzles us with. ― Alicia Elliott author of A Mind Spread Out On The Ground
Persephone's Children is a book like no other — a beautifully strange collection that defies literary conventions and dazzles with ingenuity and vitality. With luminous, lyrical prose, Rowan McCandless boldly tells the story of her rise from an abusive relationship, weaves the historical with the deeply personal, and explores themes of identity, religion, colonialism, mental illness, and racism. Rowan McCandless is a fierce writer, and her writing will move and haunt you. ― Ayelet Tsabari, award-winning author of The Art of Leaving
Rowan McCandless is a masterful storyteller. These compelling offerings create a spell-binding book of revelations — riveting, inspiring, and enchanting. Brimming with lush language and a powerful voice, full of sentences crafted with surgical precision and captivating pages containing soul-soaring insight, this memoir ushers in an exhilarating era for readers and writers everywhere. ― Eufemia Fantetti author of My Father, Fortune-tellers & Me: A Memoir
In Persephone's Children, Rowan McCandless innovates, challenges, and dares. Here is an interrogation on race, kinship, history, and future, told with a poetic whimsy that refuses boundaries of genre and theme. McCandless's writing is incisive and inventive, a true literary gift. A brilliant, meditative, necessary book. ― Jenny Heijun Wills, author of Older Sister. Not Necessarily Related.: A Memoir
In Persephone's Children, Rowan McCandless brilliantly mimics the way memory can fragment during trauma by recounting her own experiences through a variety of experimental forms. Essays housed as archaeological field notes, a quiz, a tree guide, a screenplay, and — my favourite — notes on a con game, weave together divergent reflections of her life as a biracial woman and a survivor within oppressive societal structures. Bold, inventive, and lyrical, this debut introduces McCandless as a courageous writer who is most definitely one to watch. ― Lauren Carter, author of This Has Nothing to Do With You
In Persephone's Children, Rowan McCandless stands up and says, "Enough!" And in the process of disentangling herself from relationships of abuse, she reinvents herself to reclaim herself. She sets boundaries that center her needs as a form of self-love. With these raw, real, and personal stories, she constitutes a statue of her personhood — humanizing herself — blending her scars with her strengths and her vision for herself, rejecting the lies that had previously depicted her as lesser than. In Persephone's Children, McCandless rises and becomes a revolutionary scaffold that centers her Self. Her own healing and self-validation: a form of resistance. She takes control of her story and tells it in her own way. She reminds us that it is okay to love yourself and to lose yourself in your own embrace. And in that cradle, she deconstructs her form, rebuilding it into something that makes more sense to her. In her defiance, she forces us to not only behold her story but storytelling as a whole, creating the conditions for us to also dissect our literary instincts and other borders of abuse that have colonized our bodies and minds. Though Persephone's Children may be her life in fragments, McCandless inspires readers to also experiment with their own lives in order to create beyond the limits of the forces that have for far too long told us to sit down, shut up, and follow the rules. ― Julián Esteban Torres López, creator of The Nasiona and author of Ninety-Two Surgically Enhanced Mannequins: A Micro-Poetry Collection
Women understand the story of Persephone, abducted by her uncle Hades while her mother Demeter's grief creates a winter where nothing grows — each of us is Persephone. Rowan McCandless fled an abusive marriage but it meant leaving a beloved garden behind and she still negotiates with the systemic racism that confines her every day. But she brought these essays up out of the underworld, each one a gleaming pomegranate seed. Deftly written and structurally innovative, Persephone's Children is a heartbreaking debut. ― Ariel Gordon, author of Treed: Walking in Canada's Urban Forests
In these dazzlingly inventive essays, Rowan McCandless doesn't just play with traditional forms, she blows right past them to fashion an aching account of trauma and survival. I needed to read this utterly original, gorgeous book — and so do you. ― Kathy Friedman, co-founder and artistic director of InkWell Workshops, and author of All the Shining People
 A powerful, moving book.
― Midwest Book Review
A powerful, moving book that will haunt you. ― suanneschaferauthor.com
 Winnipeg author Rowan McCandless's glowing debut, Persephone's Children, pushes the boundaries of memoir and personal essay… The result is a deeply moving literary life 'in fragments.'
― Quill and Quire
Emotional connection for the reader. The invocation of the Persephone myth ties the material together. ― Winnipeg Free Press
[McCandless] doesn't have the answers and she's not meant to, which is what makes this thoughtful book so powerful. ― I've Read This
Innovative memoir on tap for book club
The Winnipeg Free Press and McNally Robinson Booksellers are pleased to welcome award-winning Winnipeg author Rowan McCandless to the Free Press Book Club on Monday, March. 28 at 7 p.m. for a virtual discussion about her non-fiction debut, Persephone's Children: A Life in Fragments., published by Rare Machines in October 2021.
The Black and biracial McCandless ponders ancestry, family, relationships, abuse and trauma throughout the pages of
Persephone's Children 
— themes often seen in memoirs. However, the structures she employs — crossword puzzles, movie scripts, surveys, advertisements, lists, and more — are sure to be unlike most memoirs Free Press Book Club members will have read.
In the Winnipeg Free Press review of Persephone's Children, Maurice Mierau noted that "there are few of the scenes that we encounter in more traditional memoirs, but there is still narrative momentum and emotional connection for the reader. The invocation of the Persephone myth ties the material together," and the book's closing section "compellingly grounds the story in Winnipeg neighbourhoods and streets."
The Free Press Book Club is free to join at any time — simply visit the website at wfp.to/bookclub and register your email address to receive updates and information about current and future books and meetings. Replays of all previous meetings are accessible on the Free Press YouTube channel, and copies of Persephone's Children are available at McNally Robinson Booksellers.
Book club members who are Winnipeg Free Press subscribers are also entered to win a monthly prize pack which includes the following month's book pick and a Free Press tote bag.
To send in questions for Rowan McCandless about Persephone's Children or for more information about the book club, email bookclub@winnipegfreepress.com.
Author tackles tough subjects in new book
River Heights author Rowan McCandless's eldest daughter issued her a challenge to make use of her creativity.
"I wanted to be a good role model for my daughters, so that's when I started writing," McCandless said. "I had no idea when I wrote that first short story it would lead to having a book published. It seemed the universe was telling me, 'You're a writer, so write.'"
Since that initial challenge, McCandless has become an award-winning author of fiction and creative non-fiction. She was longlisted for the Journey Prize and won the Constance Rooke Creative Non-Fiction Prize. She also received gold for One of a Kind Storytelling at the National Magazine Awards.
Persephone's Children, McCandless's first novel, is about domestic abuse and the power of writing to help with leaving an abusive relationship.
"It took a couple years from start to finish to write," McCandless said. "I was in a writing workshop where we were concentrating on whatever project we were working on, so I did the bulk of the writing during that time."
Persephone's Children is all about McCandless's life. It goes into her family history, intergenerational trauma, mother-daughter relationships, racism and her own abusive relationship of 15 years.
"It's a hybrid book, which means the different essays are written in different forms," McCandless said. "One's an archeological field study, another's a screenplay and one's written as a legal contract."
The title was inspired by McCandless's childhood fascination with Persephone and Greek mythology.
"Being biracial, there's a certain amount of living in between black culture and white culture," McCandless said. "Persephone always resonated with me because she lived between worlds as a Greek goddess. She lived in the underworld with Hades and above ground with her mother."
It was a difficult story for McCandless to tell.
"One thing that was helpful in writing the tough stuff was making use of different forms," McCandless said. "In order for the reader to understand a situation, I knew that I had to understand it clearly myself."
McCandless said the book is an "invitation" for people to get an idea of what it's like to leave a domestic abuse situation.